It's one of the most magical days of the year for many families and their young children. As the holiday season approaches, Santa Claus needs to figure out how to get gifts to hundreds of millions of households in a matter of hours. That's a hefty responsibility, and the consequence of not meeting his deadlines is countless disappointed children. No one wants that!
Jolly Old St. Nick is under a lot of pressure. Logistically speaking, making it around the world in just one night seems impossible, right? But it always seems to get done. If we've learned anything over the past few years, it's that even functioning systems have room for improvement. Here is what Santa is up against and some of the ways Mr. Claus can optimize his distribution process using the latest technology solutions.
The Logistics of Delivering Gifts on Christmas Eve
Santa needs to cover roughly 100 million miles in just 34 hours. This means he must plan a transportation route that gets him to about 822 homes every second. Fortunately, this is completely achievable thanks to timezones, careful planning, and magic. But Santa certainly can't afford to have any transportation bottlenecks or disruptions in his distribution processes.
What happens at the North Pole before Santa takes to the sky with his eight tiny reindeer is just as important. How Santa's elves get the gifts ready to go out the door and prepare the lists for Father Christmas can make or break the process. Enhancing the tools and processes used leading up to Christmas Eve can improve the customer experience (CX), or child experience in this case.
How Santa Claus Can Optimize Distribution
Like all modern organizations that serve large, diverse audiences, Santa will get the best results by leveraging technology solutions. These will ensure children get the right gifts on time, which is no small task. Here are some ways Santa can optimize distribution using technology.
AI-Powered Software
It's a wonder Santa got the job done before computers existed. But that was also a time when population numbers were lower, and kids had less specific preferences. Today, the demands on Papa Noel are over the top, requiring robust solutions.
Santa and his elves can optimize distribution by leveraging AI-powered solutions. Artificial intelligence can help the North Pole team get a better understanding of who the kids are, whether they're "nice," and their particular toy preferences. Beyond this, AI can optimize work processes leading up to the big day, so the elves have the raw materials they need to create the right toys, enough wrapping paper, and the correct routes to avoid the worst of the winter weather.
RFID Tags & Readers
Radio Frequency Identification (RFID) technology is a revolutionary and advanced solution for automatic data collection, processing, and tracking. Instead of Santa having to make his list and check it twice, he can stop with the manual work after the list has been made. (That is, unless AI solutions haven't already taken over some of those tasks.)
Santa's elves can place RFID tags on children's toys as they make their way through the "workshop." From that point forward, there's no need to carry clipboards or use checklists. RFID readers will "read" the tags automatically as items get moved to the warehouse, go through the picking and packing process, and get transferred to the sleigh for delivery.
Mobile Computing
Things get awfully busy leading up to the busiest night of the year. No one in Santa's warehouse has time to sit at a computer workstation to map out the next step in the process. This is an inefficient way to get gifts out the door when every second counts. A better solution is to make the most use of mobile computing technology and devices to stay connected on the go.
Mobile computing devices, such as wearables, tablets, handheld terminals, and vehicle-mounted terminals, allow Santas helpers to get things done faster and more efficiently. Once the wireless infrastructure is in place for these devices, they can be seamlessly integrated with other systems like a warehouse management system or order fulfillment system.
Voice Technology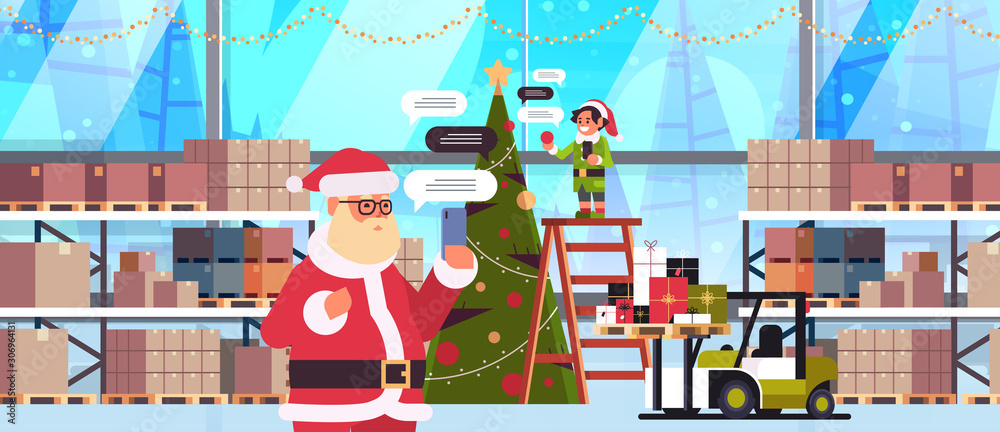 Santa only has so many elves available to work this magic each year. And some of them are bound to get a bit disgruntled if they are asked to do more and more with the same or fewer resources. We wouldn't want to see the Great Resignation make its way to the North Pole.
Automation will be a game-changer for Santa's distribution processes. All of those toys need to be picked and packed as efficiently as possible. Santa can provide the elves with voice technology solutions to automate some of these processes. Instead of asking the elves to walk back and forth to get instructions, they can use the wireless infrastructure and voice technology to receive picking and packing details for orders. This improves efficiency, reduces errors, and provides a better employee (elf) experience.
The logistical processes Santa Claus has to carry out on Christmas Eve alone are incredibly complex to serve such a wide group of deserving customers. Fortunately, Santa has an army of elves at his disposal, as well as access to new technology solutions to optimize his processes and make Christmas more efficient. Other businesses can take a cue from St. Nick to implement some of these same solutions and improve their overall results this season and in the coming year.